Corporate Social Responsibility Activities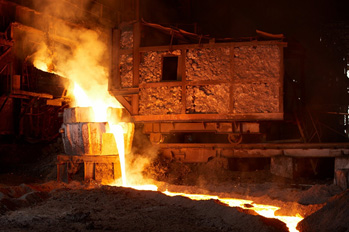 House of Sarafs, the Pioneers in Ferro Alloy Manufacturing industry in India, have started their first unit in a thinly populated with lesser than 500 residents and tiny village called GARIVIDI, in a remote and backward revenue district VIZIANAGARAM in Andhra Pradesh State in 1956.
Within two decades from then, a modern township in a 250-Acre land was built by FACOR, with all the amenities including cable TV/Video facility expected from a cosmopolitan city. A green belt was developed in about 100 Acres. Enough residential quarters were built for the benefit of employees and officers and provided furniture, water and power supply at free of cost. FACOR was the first to extend satellite doordarsan facility in the township in early eighties, when none in revenue districts of AP state had. This township has been named after the main pillar of the family as SHREERAMNAGAR.
FACOR's focus areas in terms of CSR initiatives are health, welfare, education, communal harmony and recreation of the employees and their family members, besides sharing with outside public in the surrounding area.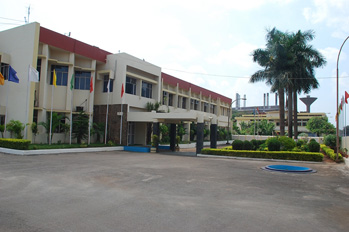 The founder of the company Seth Durga Prasad Saraf lived up to the Gandhian philosophy of life, 'share a part of your wealth with people' for betterment of their living standards. Guided by spirit of the founder, his sons leading the reins have been quite instrumental in realizing the goals of Corporate Social Responsibility. Thus came into being various welfare projects such as Educational Institutions, Hospitals, community Hall, drinking water supply facilities, recreation and sports clubs and Places of worship for the public in the township.
Shreeram Vidyapeeth runs educational institutions offering KG to PG courses of high standard benefiting 2000 students every year. About ninety percent of the students are from public and are receiving the best educational facilities comparable to any other in AP state, at free of / nominal cost.
The management is running English Medium School by name SGS High School affiliated to CBSE syllabus. This School expanded its services and is running a Cricket Academy for the benefit of the school going children in tie with SPORTS EDUCATION DEVELOPMENT INDIA LIMITED, (SEDIL) MUMBAI and AUSTRALIA CRICKET ACADEMY since 2016. About 200 students are getting trained in this field and some of them are selected for District/State level cricket Matches too.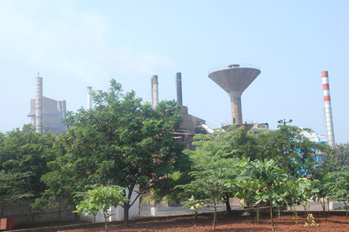 FACOR supported the executives of the company besides the local elite to start a Lions Club of Shreeramnagar, a voluntary service organization. Several Welfare projects such as Construction of school buildings, railway station approach road, bus shelters, Development of burial grounds with beautiful gardens and requisite facilities, Periodical health checkup camps and free medical treatment to the poor in the villages around are being organized by this club with the patronage from FACOR. This club has constructed a permanent service project called LIONS SULABH COMPLEX at a cost of Rs 6.0 Lac in the year 2011 in Garividi Village for the benefit of the public male and female citizens separately and is running the same in coordination with the local panchayat.
This club also runs a full fledged OEU Lions Eye Hospital with the infra structure and land donated by FACOR. This hospital is backed by qualified and experienced medical officers and para- medical staff besides full-fledged surgical and mobile medical treatment facilities and an eye bank. Several thousands of poor persons with partial/total blindness and serious eye ailments particularly living in the rural villages of north Andhra region, have been benefited free of cost every year. This eye hospital is rated one of the best in the state and won several laurels at the state, national and international lionistic forums. This hospital celebrated its Silver Jubilee in 2006. Our Eye Hospital is fully equipped and experienced Doctors and serving the needy in this rural area with corporate hospital level facilities at a nominal cost and at free of cost to the poor patients.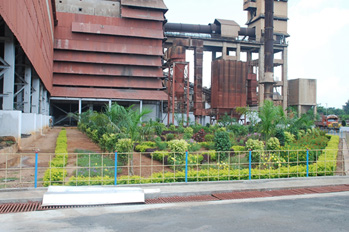 WOMAN & CHILD WELFARE CENTER: The Company donated land and buildings for voluntary service organization called, WOMAN & CHILD WELFARE CENTER registered under Societies Act, which is exclusively engaged full time for development and improvement of living conditions of local women & children living in these backward and remote rural villages. This institution houses residential schools for physically challenged children who get through every year in substantial number with school final certificates. The children with blindness study in a school called DRUSHTI, those who are deaf & dumb study in SHABDAM and those mentally retarded study in MANOVIKAS.
This center provides vocational courses like embroidery, tailoring, soap making, fashion technology, beauty care, printing, and bakery for the benefit of poor women. Several women in Garividi mandal were benefited and started to make their own living independently. This centre is also ordaining Skill Development programs initiated by Central/State governments for the benefit of the local poor students who passed out SSC examination.
The center also runs Homes for the aged and orphaned men & women separately. Many handicapped adults were often given tricycles and artificial limbs. This charitable center is well recognized for its noble services in the revenue district, state and the country. The residential schools celebrated their Silver Jubilee on September 25, 2006. This center actively serves the society under the leadership of Mrs.Promila Saraf, the wife of Mr.R.K.Saraf, Chairman of the Group companies.
The local service organization - Lions club of Shreeramnagar under the leadership of Shri R.K.Saraf, as the Charter President of this club and with the support of FAOCR has adopted the special Schools of this Woman & child Welfare Centre as its permanent service project in the year 2017 and supporting financially every month for providing nutritious food to the inmate students of the Hostel apart from supply of books, school bags and uniforms etc from time to time.
The Saraf's family is adored by the people of these parts in the Vizianagaram district so dearly by all thick and thin. About 3000 families get their livelihood directly/indirectly from the company, while the village has grown multifold with increased population of 30000 and shining commercial establishments and workshops banking on the prosperity of the company.