Sports & Extra Curricular Activities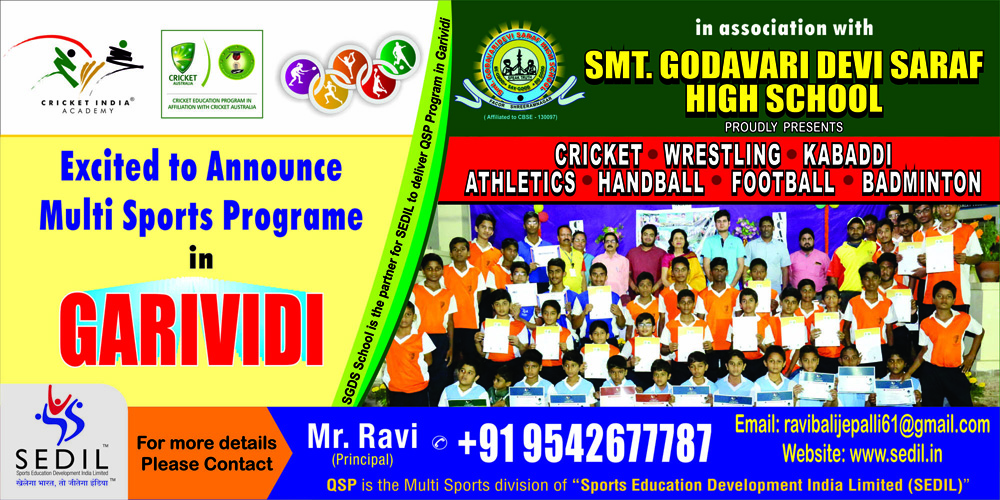 SGS Cricket India Academy
SMT GODAVARIDEVI SARAF EDUCATIONAL SOCIETY
SHREERAMNAGAR-535101, VIZIANAGARAM DIST-AP
SGS HIGH SCHOOL (CBSE affiliated)
HIGH LIGHTS
Smt Godavaridevi Saraf High School in English Medium affiliated to CBSE syllabus has been started in 1971.
The built up area of the main building is 31,420SFT on a land of 5.90 Acres and the built up area of the annex building is 7848SFT on a land of 0.63 Acres.
It offers courses from Nursery to 10th class.
38 batches of 1588 students have passes out 10th Class Exams and settled in higher studies and settled well in the country and in abroad.
This School is also running SGS CRICKET ACADEMY in collaboration with SEDIL (SPORTS EDUCATION DEVELOPMENT INDIA LIMITED), MUMBAI and with Australia Cricket Academy & Cricket India Academy Limited since 2016. It is also being expanded into SPORTS SCHOOL from the Academic year 2018-19.
About Our School
Education should be the biggest and best adventure in a child's life. Smt. Godavari Devi Saraf Senior Secondary School is one among the best equipped in the near vicinity of Vizianagaram District.
It is one of those few educational institutions in this region that has traversed a journey of more than 50 years and yet remained contemporary competitive and relevant.
A carefully planned academic and non academic curriculum ensures a thorough understanding of basic concepts, thus laying a strong foundation for a sound education.
SGS aims to provide a world class education, on the basis of secularism, liberalism, development of self discipline and moral character in the students.
SGS's origins go back to the sixth decade of 20th century with the establishment of the Sreeram Modern School in present day Shreeramnagar on August 15th 1965.SGS started its mission with a few students. Smt.Promila Saraf, the founder of SGS shaped this institution with a firm determination, devotion, loyalty and selfless love.
SGS, Shreeramnagar is committed to nurturing the self development of students, tapping the abilities of each individual. SGS creates an atmosphere in which the students gain confidence to stand on their feet, take their own decisions and reach the pinnacle of success.
SGS derives its brand image from institutional reliability, quality of education, services offered, delivery of commitments and all above the trust of parents.
SGS has played a very important role in developing India's rural region by providing quality and contemporary education for modernizing the country's human resources.
The school is a place where children are encouraged to say,
"I see it, I get it, I can do it."
In this era of cut throat competition, it is of great importance to impart an integrated education to the future citizens of the Nation for successfully facing multitasking. The SGS, therefore lays special emphasis on both co-curricular and extracurricular activities providing students an edge over others to be a leader in their respective field of activity.
We believe that students, parents and teachers play a vital role in helping students reach their greatest potential. Students are encouraged to take advantage of the many resources available to them - their teachers, the library, the computer lab and the smart classes.
In the words of Goethe – there are only two testing bequests we can hope to give our children – one of them is roots the other is wings.
SGS CRICKET ACADEMY, SHREERAMNAGAR
The S.G.S Cricket Academy founded by Mr. Arnav Sarafji, the Vice – President of SGS High School on 13th October 2016 has an objective to impart Modern Cricket Coaching Program with a meticulously integrated Cricket pathway to enable the passionate aspirants right from an early age of 5 years onwards.
In order to meet the objective, SGS Cricket Academy acquired the exclusive master rights of the prestigious "Cricket Education Programme CEP designed by "Cricket Australia" (CA). Now, the SGS Cricket Academy is a part of "Cricket India Academy & franchised by "Cricket Australia".
Cricket India Academy - Comprehensive Cricket Coaching Programme
| | |
| --- | --- |
| 1. Cricket Kids (CK) | 5-8 years |
| 2. Cricket Education Programme (CEP) | 9-14 years |
| 3. Emerging Players (EP) | 15 years and above |
The academy has successfully completed its first year coaching session in the following groups:
| | |
| --- | --- |
| 1. Cricket Kids (CK) | 15 |
| 2. Cricket Education Programme (CEP) | 51 |
| 3. Emerging Players (EP) | 18 |
During its first year, SGS Cricket Academy's meritorious efforts are:
SGS Cricket Academy was inaugurated on 13th October 2016 by Sri Arnav Sarafji Vice – President of SGS High School, Sri K.V.S.S.N. Murty, General Manager, Facor Alloys Ltd & Secretary & Correspondent, S.G.S. High School, Sri Kamalakar, Sri Lakka Raju Narayana Murthy. Sri Madhu from Facor Alloys Ltd., Sri Dhavala Narasingham, Ex-Principal, Staff & Students of SGS High School attended the function.
The academy got good response from the Parents and Students. In the beginning more than 84 students joined in the academy as per the programme designed.
The academy has paid an amount of 39 dollars for each student as franchise fee to Cricket Australia (CA) for 22 students.
It also paid its loyalty which comes about 10% of its fee collection to the Cricket India Academy (CIA).
The academy organized a T20 Match on 28th January 2017. Master Devansh Saraf, the grandson of Smt. Promila Saraf Ji & R.K. Saraf Ji played in the match along with our academy students. Sri R.K. Sarafji & Smt Promila Sarafji were present to witness the match. Prizes were given to the winners by Smt. Promila Saraf Ji at the end of the match.
As a part of its programme the academy has taken the cricket players to Visakhpatnam to witness a test match between England and India in the month of November.
Three students from SGS Cricket Academy played in Under 12 selections held in Vizianagaram in February 2017. The participants are Master R. Surendra Naidu, Master B.G.S.R. Patnaik and Master B.G.S. Trishi.
In the month of May 2017 the academy students were taken to Vizzi Stadium in Vizianagaram to participate in the practice match for Under 14 with Hyderabad team.
Mr. Sateesh, Under 23 Player of Ranji visited our academy and taught our students about techniques in playing cricket and shared his experiences with them.
On June 2nd, 2017, Andhra Cricket Association scorer, Sri Suresh visited our academy and taught the rules and regulations to the academy students.
Our academy coach, Mr J. Surendra was selected as a coach for Under 14 for Vizianagaram team. Recently he is appointed as a coach for Under 23 from Vizianagaram district. This team will play with North Zone team.
The SGS Cricket Academy under the able guidance of Sri Arnav Sarafji is flourishing day by day. For this, a meeting was conducted under the leadership of Sri Arnav Sarafji in the conference hall of administrative block of Facor Alloys Ltd. Mr. Lakkaraju Narayana Murthy, Principal and some staff members of SGS High School attended it to strengthen the academy in future. In recent times, the academy organized Summer Camp for all the age groups successfully.
The academy now wants to expand its idea of cricket to the entire district of Viziangaram.
In the present year 2017-18 the academy is putting all its efforts to increase its strength to 150 students. Admissions are open for outsiders also for its successful journey.
Expansion
During this Academic year 2018-19, the school expanded its sports activities by transforming the Cricket Academy into SPORTS ACADEMY with the initiative taken by its Vice President , Shri Arnavji Saraf.
SEDIL under agreement with the school runs the SPORTS ACADEMY in full fledged manner. Besides Cricket, coaching will be given to the students of the school as well as outside students in other sports such as Khabadi, Kho-Kho, Volleyball, Football, Wrestling, Shuttle Badminton and Athletics.
All the 1200 students who are on rolls in the school are involved in either of these sports activities by making it mandatory as a part of the school curriculum.
The sports academy is managed by 6 professional coaches and one physical education trainer(PET) and monitored by the Principal and Vice President of the school with the technical inputs and support by SEDIL.
The school plans to utilize the two additional buildings for hostel facilities for the sports academy students.
List Of Candidates Participated In Cricket From 2016-18
| S.No. | Name Of Student | Age | Class | Year | Name of the event Games/Sports | Mandal wise participation | District wise participation | State wise participation | National wise participation |
| --- | --- | --- | --- | --- | --- | --- | --- | --- | --- |
| 1. | B.G.S.R. Patnaik | 12 | VII | 2017 | Cricket | | Under-12 | | |
| 2. | B.G.S. Trishi | 11 | VI | 2017 | Cricket | | Under-12 | | |
| 3. | R. Surendra Naidu | 11 | VI | 2017 | Cricket | | Under-12 | | |
| 4. | K. Jagadeesh | 14 | IX | 2017 | Cricket | | Under-14 | | |
| 5. | T. Vinay | 14 | IX | 2017 | Cricket | | Under-14 | | |
| 6. | R. Surendra Naidu | 14 | VII | 2017 | Cricket | | Under-14 | | |
| 7. | S. Shyam Srinivas | 14 | IX | 2017 | Cricket | | Under-14 | | |
| 8. | M. Bala Krishna | 15 | IX | 2017 | Cricket | | Under-16 | | |
| 9. | Ch. Niteesh Kumar | 15 | X | 2017 | Cricket | | Under-16 | | |
| 10. | R. Krishna Vamsi | 15 | X | 2017 | Cricket | | Under-16 | | |
| 11. | K. Jagadeesh | 15 | IX | 2017 | Cricket | | Under-16 | | |
| 12. | Ch. Giribabu | 18 | Degree | 2017 | Cricket | | Under-19 | | |
| 13. | K. Jagadeesh | 15 | X | 2018 | Cricket | | Under-16 | | |
| 14. | B. Yaswanth | 14 | X | 2018 | Cricket | | Under-14 | | |
| 15. | B. Yaswanth | 12 | VI | 2018 | Cricket | | Under-12 | | |
| 16. | K. Rakesh | 15 | IX | 2017 | Long Jump | Gold | Under-12 | | |
| 17. | B.G.S.R. Patnaik | 14 | VIII | 2017 | Wrestling | Gold | Gold | Silver | |
| 18. | K. Rakesh | 15 | IX | 2017 | Handball | Winners | | | |
| 19. | B.G.S.R. Patnaik | 14 | VIII | 2017 | Handball | Winners | | | |
| 20. | G. Hemanth | 14 | IX | 2017 | Handball | Winners | Central Zone Meet held at S.Kota, entered into Semifinal | | |
| 21. | N. Ananth | 14 | VIII | 2017 | Handball | Winners | Central Zone Meet held at S.Kota, entered into Semifinal | | |
| 22. | K. Chandra Sekhar | 15 | IX | 2017 | Handball | Winners | Central Zone Meet held at S.Kota, entered into Semifinal | | |
| 23. | N.V.N. Reddy | 15 | IX | 2017 | Handball | Winners | Central Zone Meet held at S.Kota, entered into Semifinal | | |
| 24. | P. Sai Gowtham | 15 | IX | 2017 | Handball | Winners | Central Zone Meet held at S.Kota, entered into Semifinal | | |
| 25. | N. Ananth | 14 | VIII | 2017 | Wrestling | Gold | Gold | Bronze | |
| 26. | B.G.S.R. Patnaik | 14 | IX | 2018 | Wrestling | Gold | Gold | Bronze | |