The Founders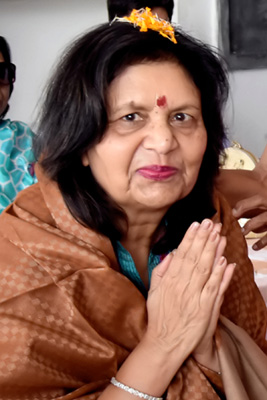 Promila Saraf's motto is 'work is worship'. Serving the needy is 'Mukti' is her belief. She is the daughter of late Sri G.M. Modi. She studied at Scindia Kanya Vidyalaya, Gwalior and graduated from Modi Degree College, Modinagar (U.P). She got married in 1963 to a well-known industrialist Sri R.K. Saraf, Chairman & Managing Director, FACOR Alloys Limited, Garividi. Hailing from cosmopolitan city of Delhi, she started her life along with her husband in a remote backward small sleepy village Garividi, Dist, Vizianagaram, Andhra Pradesh and has taken up service to people with belief as service to God, command with philanthropic philosophy inherited from her father. It is all due to the encouragement, help and support and cooperation from Sri R.K. Saraf, who is the force behind all her achievements.
Smt. Promila Saraf perceived the long felt need of an English Medium School to the residents of Shreeramnagar who are congregated from different parts of the country with different linguistic backgrounds. She established an English medium school in 1965 which is now affiliated to CBSE, New Delhi. She is the President of Smt. Godavari Devi Saraf Educational Society.
The school is imparting education through the medium of English to the wards of the residents of this industrial settlement which could not have materialised without the efforts and keen interest of Smt. Promila Saraf.
In1968 a humble start was made by providing services to the needy destitute women and the orphan boys which is now developed and expanded as a big complex known as WOMAN & CHILD WELFARE CENTRE. This center is a non-governmental voluntary organization under societies act, 1860 rendering free services to the needy handicapped, destitute and poor for the last two and half decades, at Garividi in Vizianagaram District, Andhra Pradesh in 8 acres of land. The most cherished objectives of the center is to serve humanity in every possible sphere of educability of handicapped and tapping their potential to become self reliant and live like normal.
Sulakshana Ram Janam Pandey Award
For the year 1990-91 by National Society for equal opportunities for the handicapped, Bombay, for her services to the handicapped.
Bharath Cultural Integration Committee for National Integration
Honored Mrs.Promila Saraf, for her services rendered in the field of social work on November, 5, 1992 at Delhi.
Ugadi Puraskar Award
Smt. Promila Saraf received the Ugadi Puraskar for the excellence in the field of social services from 'MADRAS TELUGU ACADEMY" Chennai on 29th March, 1992 from Dr. Neelam Sanjeeva Reddy, Former President of India.
Mahila Ratan Award by International Friendship Society of India
Mrs. Promila Saraf received the "MAHILA RATAN AWARD" for her services rendered to society, by International Friendship society of India on 06.08.1992 from Sri Giani Zail Singh, Former President of India.
National Award for services to the handicapped
Mrs. Promila Saraf received the National Award in recognition of her outstanding work in the field of handicapped welfare in – 1993 from the then President of India, Dr. Shankar Dayal Sharma.
Plaque from American Biographical Institute, North Carolina, U.S.A.
Mrs. Promila Saraf received Plaque from 'International Who's Who of Professional & Business Women' from American Biographical Institute, North Carolina, U.S.A.