SGS Cricket India Academy
Cricket India Academy (CIA) is the cricket division of SEDIL and is responsible for managing the everyday activities and operations of all cricketing activities. Moreover, we have an immense network of renowned current & ex- Cricketers as the qualified coaches on board. The academy laid down their cornerstone in 2009. CIA began this venture to infuse structure into cricket development programs and build a comprehensive framework to ensure the smooth working of the programs. Cricket Pathway, is an exclusive integrated cricket development program offered by CIA.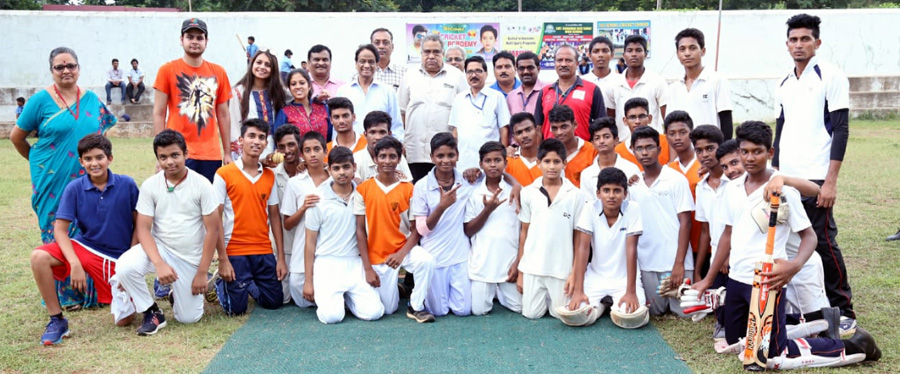 Cricket Education Program
An excellent cricketer is not just identified by his/her performance on field but is rather determined by his/her knowledge and understanding of the sport in his mind. Cricket India Academy® understands the essentials that are required to establish a thorough cricketer. The Cricket Education Program, a six-level sequential cricket development program, has thus been incorporated. The program has been constructed for 9-14 years old boys and girls, exclusively by Cricket Australia.
Each level of this comprehensive program ensures development of practical skills along with specialized training and knowledge development. As the program covers all essential skills required to master the sport, it also aims at building holistic sportsmen through sessions on leadership, fitness and team-spirit in cricket. Level 5 & 6 of the program also include introduction and basic training on coaching, umpiring and scoring. Throughout the program, every participant gets individually assessed on his/her acquired knowledge and understanding of the sport as well as the skills learnt and practiced.
Quad Sports Program
Physical Education and Sports are the two sides of the same coin. PE: Instruction in physical exercise and games, especially in schools. Sports: Sports are all forms of usually competitive physical activity or games which, through casual or organized participation, aim to use, maintain or improve physical ability and skills while providing enjoyment to participants, and in most cases, entertainment for spectators. We believe that providing a balanced education via both these systems meticulously will result in the holistic development of any child. Also, each education board has a norm to provide at-least 2 sessions per week to each child for physical education.
Often the belief is to cater with one of these elements even in the prestigious schools but we want to revolutionize this belief with building bridges between these elements and developing a synergy to imbibe not only the physical lessons but mental strength.